グリオン大学&レ・ロッシュ大学留学説明会(Glion & Les Roches Seminar)
参加予約 / ATTEND A SESSION
LINE@でお問い合わせ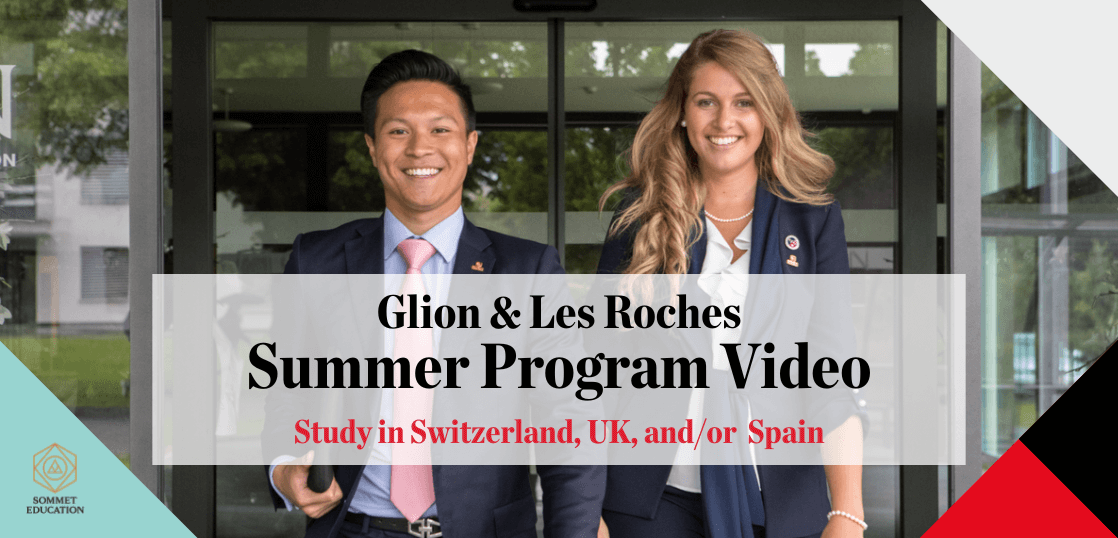 コロナウイルス感染防止対策のため、現在説明会はオンライン上で開催しております。オンライン説明会への参加方法は、ご予約頂いた方へのみ別途ご案内差し上げます。ご参加をご希望される方は、下記フォームより参加登録をお願いいたしいます。
「ホスピタリティ」を学問の一分野として位置付けた、ホスピタリティ先進国・スイス。
そのスイス発祥のホスピタリティマネジメントを、世界最高レベルの施設と教師陣のもとで学ぶことができるのが「グリオン大学」と「レ・ロッシュ大学」です。
スイス・イギリスにキャンパスを構えるグリオン大学と、スイス・スペイン・中国にキャンパスを構えるレ・ロッシュ大学は姉妹校であり、学期によってはお互いのキャンパスを行き来し学ぶことができるのも特徴の1つと言えます。ホスピタリティに関連した大学のランキング調査においても常に世界トップレベルにランクインし、就職率や教育内容いついても極めて高い評価を得ている名門大学。本セミナーで、プログラムの概要について把握すると共に、ホスピタリティ業界の未来について考えてみませんか。
グリオン大学&レ・ロッシュ大学留学説明会
Glion & Les Roches Seminar
Study in Swiss, UK, Spain, and/or China


開催日時 / Date

大学院進学希望の方 (For those who are interested in Graduate Programs)

2021年7月28日(水) 20:00~21:00 / Wednesday, 28th July 8:00pm to 9:00pm



大学進学希望の方 (For those who are interested in Undergraduate Programs)

2021年7月12日(月) 19:30~20:30 / Monday, 12th July 7:30pm to 8:30pm
内容 / Contents
ウェブセミナー形式にて開催(Webinar)
* ホスピタリティ業界・キャリアについて / Learn about Hospitality Careers
* 学校のプログラム(大学、大学院、MBA等) / Glion, Les Roches programs and admission
* 質問タイム / Q&A 今回の説明会は英語での開催となります。
Language of instruction is English. Please contact us if you need any Japanese support.
日本語でのセミナーをご希望の方はこちらのセミナーにご参加ください https://www.lhejapan.com/event/
講師 / Speaker
1. Ms. Cristy Gover / Head of Partnership Development for Asia Pacific
 (Languages : English, Thai & Indonesian)

Cristy has been a passionate international educator in the Asia Pacific region for over 25 years. She brings with her a genuine zest for education, student engagement and life-long learning having been a Head of School, Head of Department and experienced International Baccalaureate teacher, workshop leader and examiner in Thailand, Singapore, Indonesia and Australia. Having been a freelance journalist for Luxury Travel Magazine and the founder of her own on-line business, Cristy now gets to enjoy combining her two passions: education and hospitality, in her role as Head of Partnership Development for Asia Pacific with Sommet Education, based in Singapore.


2. Ms. Poh Wan / Regional Admissions Manager
 (Languages : English)

Ms Poh Wan CHEANG joined Sommet Education (Glion/ Les Roches) in January 2019, as a Regional Admissions Manager based in Kuala Lumpur, and is responsible for recruitment in Malaysia and Indonesia, plus Postgraduate programs across several South East Asia countries. Prior to joining Sommet Education, she was the Regional Manager for a UK Russell Group University. She brings with her many years of experience in international student recruitment and partnership management in the South East Asia region, including Malaysia, Indonesia, Thailand, Singapore, Vietnam and Brunei. Poh Wan also has ten years of experience in the local Malaysia education industry, encompassing areas of marketing and program management. She has also spent four years in Computer Associates and Deloitte Malaysia, in the area of IT training management and experiential learning.




3. Dr Nicoletta Giusti / Programme Director of our Master's in in Luxury Management and Guest Experience

Nicoletta Giusti PhD is an academic with more than 20 years of research and teaching in the fields of Luxury, Fashion and Design, from the Bachelor level to MBA, in several Business Schools and Universities in Europe. She comes from family business in luxury menswear founded in 1887 and has a wide range of professional and entrepreneurial contacts in the Luxury and Fashion industry. She has worked as a consultant for several fashion firms and was Professor Ambassador for the Program LVMH INSIDE 2018. She is part as well of the Swiss Center for Luxury Research.

場所 / Venue
オンライン説明会となります。オンライン説明会への参加方法は、ご予約頂いた方へのみ別途ご案内差し上げます。ご参加をご希望される方は、下記フォームより参加登録をお願いいたします。

The seminar will be held online. Please confirm your attendance from the online booking form below. We will send you the instruction on how to join the online seminar by Email.

費用 / Cost
無料/Free
対象者
* ホテルやエアラインなど「おもてなし」の必要な業界への就職を考えている方
* ラグジュアリー業界に興味がある方
* レストランなどご自身での起業をお考えの方
* 将来どんなことを学んでみたいか検討されている高校生や既卒の方
* ヨーロッパ圏でAll Englishの環境の大学へ進学したい方
* Anyone who is interested in studying hospitality management.
参加予約 / ATTEND A SESSION
LINE@でお問い合わせ