グリオン大学/レ・ロッシュ大学 オンライン説明会
Webinar Info - Glion and Les Roches
参加予約 / ATTEND A SESSION
LINE@でお問い合わせ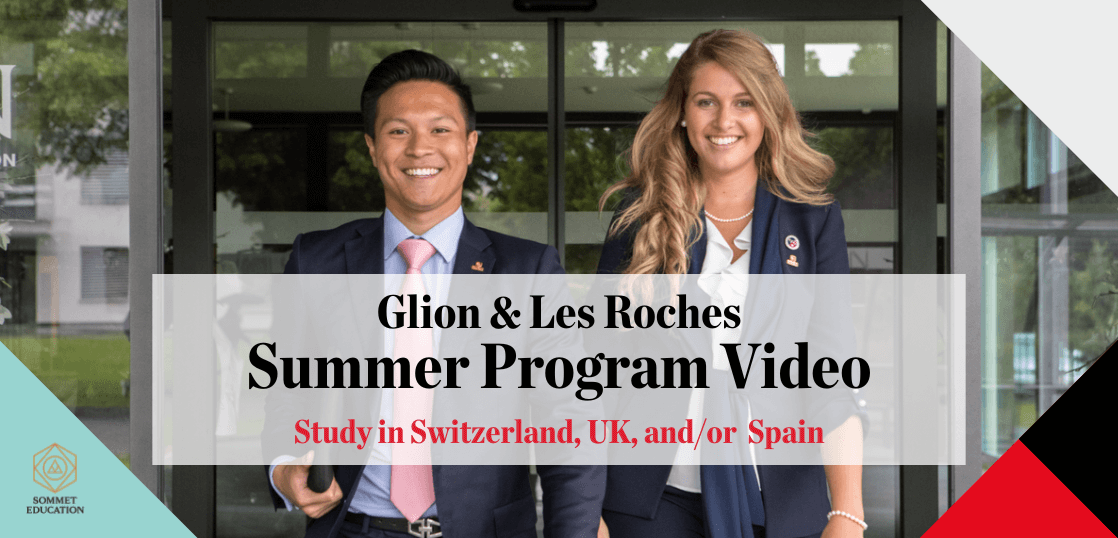 コロナウイルス感染防止対策のため、現在説明会はオンライン上で開催しております。オンライン説明会への参加方法は、ご予約頂いた方へのみ別途ご案内差し上げます。ご参加をご希望される方は、下記フォームより参加登録をお願いいたしいます。
「ホスピタリティ」を学問の一分野として位置付けた、ホスピタリティ先進国・スイス。
そのスイス発祥のホスピタリティマネジメントを、世界最高レベルの施設と教師陣のもとで学ぶことができるのが「グリオン大学」と「レ・ロッシュ大学」です。
スイス・イギリスにキャンパスを構えるグリオン大学と、スイス・スペインにキャンパスを構えるレ・ロッシュ大学は姉妹校であり、学期によってはお互いのキャンパスを行き来し学ぶことができるのも特徴の1つと言えます。ホスピタリティに関連した大学のランキング調査においても常に世界トップレベルにランクインし、就職率や教育内容いついても極めて高い評価を得ている名門大学。
本セミナーでは、今後開催予定の大学本部セミナーについてご紹介いたします。

ご興味のあるセミナーがございましたら、ぜひお気軽にお知らせください。
Please find the upcoming online webinars for Glion and Les Roches below, and feel free to join us!
グリオン大学/レ・ロッシュ大学 オンライン説明会
Webinar Info - Glion and Les Roches
Study in Swiss, and UK


開催日時 / Date
ラグジュアリー業界について
This is our future: a vision of tomorrow's luxury October 27th (Friday), 2023
09:00-10:00pm (Japan Time)
内容 / Contents
ウェブセミナー形式にて開催。 ※説明会は英語での開催となります。
* This webinar is conducted in English on Zoom webinar. Please contact us if you need any Japanese support.

ラグジュアリー業界について
This is our future: a vision of tomorrow's luxury

- Profitable partnerships
Across the luxury sector, collaborations and partnerships are wowing consumers and guests alike. From unexpected, cross-segment collaborations such as Louis Vuitton and Supreme, to the growing involvement of luxury brands in hospitality, such as the Savoy's flagship Gucci Suite, it's a dynamic and fast-evolving picture. Where next for these luxury connections? And what are the secrets to finding the right partner and making a collaboration work for both brands?

- Meeting the sustainability challenge
Like all business sectors, luxury must address the growing consumer demands around sustainability. How should the industry go about meeting this challenge? What are some of the most innovative sustainability-focused concepts and startups to watch? Also, in luxury goods we've seen upcycling, recycling, pre-owned, and vintage become a key component of the market – what happens next in these fields?

- It's all about the brand
At the heart of a luxury brand is distinctiveness. A distinctive story, distinctive designs, distinctive service, distinctive ambassadors. How does a brand successfully create distinctiveness? Also, in today's uncertain world, many have sought refuge in the timeless (and strong) values of luxury. How best can the industry leverage this, whether through resurrecting storied but now defunct brands, creating limited runs of celebrated pieces from the back catalog; or from a luxury hospitality perspective by harking back to the golden age of travel or the operator's own history?

- Making the talent connection
Retail and hospitality are the two most prominent customer-facing areas of luxury; but what are the similarities – and differences – in the typical skillsets required to forge a successful career in them? What are the 'must-have' skills and attributes to succeed in luxury? How should ambitious young professionals 'market' themselves to have the best chance of catching the eyes of potential employers? And how will the evolution of the luxury industry change the skills (hard and soft) required for success?
場所 / Venue
オンライン説明会となります。オンライン説明会への参加方法は、ご予約頂いた方へのみ別途ご案内差し上げます。ご参加をご希望される方は、下記フォームより参加登録をお願いいたします。

The seminar will be held online. Please confirm your attendance from the online booking form below. We will send you the instruction on how to join the online seminar by Email.

費用 / Fee
無料/Free
対象者 / Who should attend
* ホテルやエアラインなど「おもてなし」の必要な業界への就職を考えている方
* ラグジュアリー業界に興味のある方
* レストランなどご自身での起業をお考えの方
* 将来どんなことを学んでみたいか検討されている高校生やご家族様
* ヨーロッパ圏でAll Englishの環境の大学へ進学したい方
* Anyone who is interested in studying hospitality management.
参加予約 / ATTEND A SESSION
LINE@でお問い合わせ